SOUVENIRS
Apparel Coffee Popcorn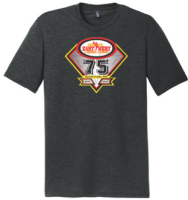 2022 East West Shrine Game Apparel
We will be offering a large selections of t-shirts, tanks, hoodies, hat and 1/4 zips. Click on the link provided above to get your 75th anniversary apparel before game day.


We've got to get your gear to you - That means additional orders will NOT be accepted after sale deadline. If an item becomes unavailable, you'll be notified and your credit card will be refunded. Orders will not be processed until the sale has expired. Please allow 4 weeks from the date the store closes to receive your goods. Orders will ship to the school/coach unless otherwise stated on the store. No exchanges/returns will be accepted so ensure you are viewing the size charts, if needed.
__________________________________________________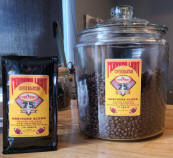 Shriners Blend Coffee from Morning Light - $14.95/lb
Click Here to Order
$1 of every pound sold will be donated to the Shriners Children Hospital.

Shriners Blend:
A blend of South and Central Americans. Central America coffees are usually very balanced with a good mixture of smooth sweetness and some tart, fruity acidity (the brightness of the coffee's taste). The South American varietal in this blend, however, tends to be more sweet and less acidic, even having some nutty hints.
__________________________________________________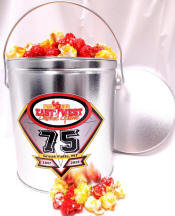 75th Commemorative Tin and Popcorn Blend from
The Popcorn Colonel -
1 gallon tin $25 or 2 gallon tin $35
$5 of every commemorative tin sold will be donated to the Shriners Children Hospital.
This delicious Strawberry Cheesecake blend in a beautiful keepsake tin is a winning combination. Tins filled with commemorative blend are PRE ORDER ONLY and will start shipping June 1st. Pre Orders can be picked up in store or at the Banquet and Game on June 17th and 18th. If you want your tin filled with other flavors instead of the commemorative blend please call the store and place your order for pick up or to be shipped. 406-727-5676
__________________________________________________